#F
On Patrick's Day, everyone (whether you have distant relatives who were Irish or not) IS Irish, right? Nope. Not me. I'm still Welsh. But I'll throw on my green and join in on the Shamrock celebrations. Any excuse for a party and a sexy Irish barman pouring me a tasty treat...talking of which.
Thanks to Decadent Publishing, EVERYONE GETS A FREE DIGITAL DOWNLOAD of my ARe and Bookstrand bestseller, SWEET IRISH KISS! WOOT read on for links to your favorite ebook stores and how you can get your FREE copy of Sweet Irish Kiss
And I've more celtic romance for ya! Fancy a Scottish Vampire? Fill in the rafflecopter for a chance to win a digital copy of Dracula's Kiss -- A Night Owl Reviews TOP PICK!

GRAB YOUR COPY FOR FREE FROM AROUND 9th MARCH (MAY BE EARLIER)! LIMITED TIME OFFER TO CELEBRATE ST PATRICK'S DAY! AVAILABLE IN MOST EBOOK STORES... UP DATE -- ARe, SMASHWORDS and BOOKSTRAND have it up for free NOW! And amazon have it up for 99c! Other links should have the offer very, very sooN!!
"
Your Panties will be bunching and you will be sitting on the edge of your chair to wait and see what goodies Shaun has packed in his overnight bag ** grins **"

-- Kat, Pageflipperz
Ms. Kenrick's writing style flows nicely throughout the story. Her attention stays more on the characters rather than the setting which is fitting for the genre of the novella. I like her ability to dig deep within the characters feelings allowing them to step up and tell their story. It is as if the author really took the back seat on this one. Very well written indeed! JoAnne Kenrick knows how to write unique, if not quirky, characters that stay with me long after I've finished reading their stories."

-- Talina, Night Owl Reviews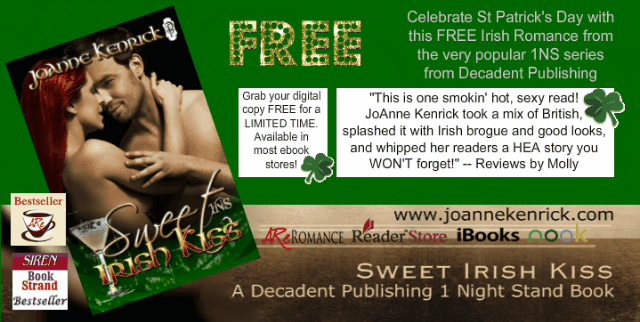 THIS CONTEST IS NOW OVER -- but you can still grab your FREE Irish Kiss from participating stores until 18th march. Happy St Patrick's Day!
a Rafflecopter giveaway