Welcome to my vampish contribution to the VAMPIRE BITE blog hop organized by Jolie Du Pre's Precious Monsters blog for V Day. Yes, that's Valentine's Day.
Just the title of that blog reminds me of the gals from my Tales from the Coffin. They surely are precious and most definitely monsters. But I reckon both would be a little bitter on a day dedicated to amore. They'd probably prefer to think of V Day as being Vampire Day. Let me introduce you to Lucy and Estella....
...to the darker side of JoAnne Kenrick's writing.
Tales from the Coffin is an erotic horror sub series to Decadent Publishing's
The Edge
E
stella,
V
ampire
Q
ueen of the
R
ejected,
royally invites you to join herself and her zombie lover for a fix of dark tales sure to tickle your fancy and give you the shivers. But mind your manners, because Estella and Lucy bite.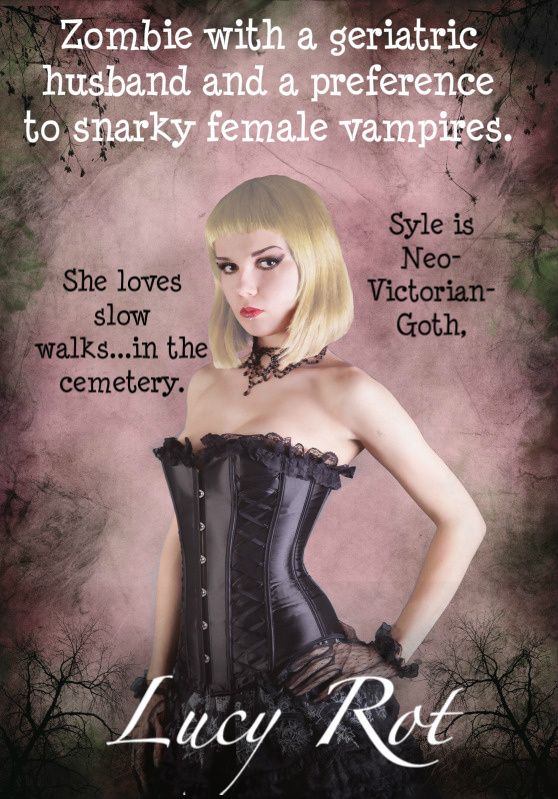 EXCERPT FROM BOOK ONE, CHAPTER ONE - STRANGE AND BEAUTIFUL
"Fancy bursting into my boudoir and expecting me to entertain on demand. The cheek of it. You people have no manners." Estella puffed her raspberry-red hair into something that resembled an up-do and readjusted her breasts, shoving her plump flesh back into her once-upon-a-time-white corset. "I know. The word is out. I give great story. I do understand. You're excited, who wouldn't be? I am rather marvelous, if I do say so myself.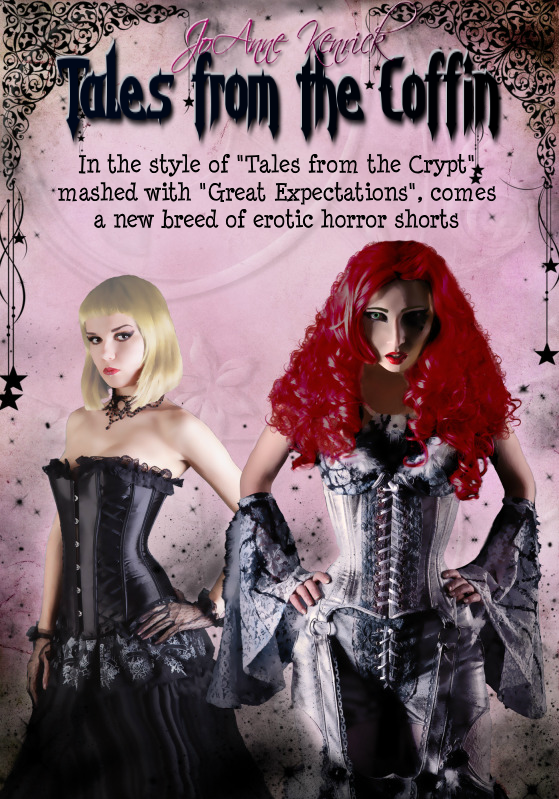 "In my day, though, the men held doors open for ladies, and the ladies tilted their necks to offer supper. Oh, no need to wrap that sweater farther up your jugular, dear, I've already eaten, so I'm not hungry...at the moment." Estella stretched her arms out, licked her canines, and hoisted her moth-hole-ridden skirt to expose her alabaster thighs decorated with stockings laddered at the knees and splattered with fresh blood. "I can't vouch for Lucy, though. She's always hungry, aren't you my little Deady Bear."
Lucy groaned, burped, and stretched her neck out—to the right. Crack. To the left. Crunch—and dragged toward her mistress.
"Quit being disgusting and help me out of this coffin, would you?"
"Yes, boss." Lucy, her mostly-faithful servant, shuffled across the neglected basement in their decaying house in the outskirts of York—the supernatural center of England—to her mistress while cursing her gammy leg and zombie disabilities. Minutes later, she parked her behind on the edge of Estella's coffin and snaked her hand up her leg, smearing the blood as she went. "Finger-licking good," she crooned before trailing her tongue over the torn material decorating Estella's skin. She paused and held her hand up. "Shame I'm missing two of them. Wonder where I lost them? You'd think I'd feel them snapping off, wouldn't you? Have you seen them?"
Tsking, Estella kicked her off and turned her nose up. Not because she needed to dominate Lucy—she had already put her in her place—but because she knew where those fingers were. And she didn't want the poor dear to read the truth in her eyes.
"I ordered you to help me out of my coffin, not suck my joint. My goodness, your hunger for flesh is insatiable. What was I thinking taking in a zombie? Blonde and curvy you may be, but you're always trying to gobble me up."
She reached out for Lucy to aid her in standing, her taffeta dress falling to her angkles and crinkling with every movement. Dust specks filled the air around her, dulling the oak finish of her coffin and its ornate metal skulls and wooden crosses. Zombies were poor servants for housekeeping, but they had other qualities....
"You don't usually complain when I'm gobbling you up," Lucy muttered.
Pretending not to hear, Estella sat on a red chaise lounge that had seen better days. All very lady-like and proper; ankles crossed and shoulders back. Lucy settled at her feet and sucked on a toe poking out of Estella's stockings.
"Hey. You. Yes, YOU. Quit judging. Did you simply come to gawk at the bride Dracula left at the altar getting sucked off by some misfit lesbian zombie, or do you want me to tell you a story? This isn't a freak show. Hell, Lucy, quit humping my feet. You're giving our guests the wrong idea."
"Then get on with the entertainment." "Impatient and decaying. What do I see in you?" "Hey, I'm not decaying. Just not Tupperware fresh is all." "You're a zombie, dear. Deal with it. On that note, maybe we should tell the
story of when you found the one. Head over heels, you were. Would do anything to get your man. Anything. My, how times have changed."
"Says the woman left at the altar who still dreams of being with her would-be groom," Lucy piped up.
"Go bury your head in a bucket of chickens and sob while you listen to that soppy tune you have on repeat. You are a strange one." And quite beautiful. She'd be hard pushed to share that bit of information with Lucy. No. She'd rather be hung out to dry in public than dish out a compliment.
"So you can tell the world how I became fate bait? No, thanks. Think I wanna be around for that? In fact, I think I'll tell this story, to make sure it's told right."
"Yes, indeed." Estella patted the space beside her. "Are you going to begin?"
And a wee snippet from the story Lucy shares in book one -- which is HER story. It's pretty hawt and dirty, so I struggled to find a 'clean-ish' snippet to share. This is the best I could do. Hope you enjoy
-------
I always show up for dates on time, and it infuriates me when others don't. Get a watch—set an alarm, anything—because it's impolite to be late. My doctor is the only person I have ever forgiven for this terrible faux pas. I waited around for him. Had a swollen pussy and was dying for his touch. All my sensibility had flown two sheets to the wind. My head, too. Must have had three, maybe four glasses of cheap plonk while waiting. Just to break the ice. I suspected he was going off me. I mean, we'd been dating for a month and still no action. What was that about?
Pissed, and pissy at the bastard's lateness, I decided to pull out some whacky- a-doodle-doo of a magic book I'd bought as a gag gift and forgot to deliver. Fancy myself as a bit of a charmed one. Mind you, if that were the case, I could just call for my man and he'd orb in. My very own sparkly hero.
Reality check. Not going to happen.
I flicked through the first few pages of the pink paperback. Nothing interesting. Nothing connected to sex, anyway. Then I saw it. The perfect spell to try. Make your man worship the ground you walk on. Excitement rushed through me like a rogue roller coaster set for disaster. Right there. That was the moment I should have cut my losses and sobered up.
Instead, I finished the bottle of wine and chanted a few words. Chris stopped by an hour later. I'd run out of alcoholic lubrication and could walk in a straight line again, which meant I had sobered up for McSexy's apology. Is it lame I called him that? Whatever. Anyway, he made an excuse about helping some woman called Lizzie move into a cottage. I think I took in most of what he said—hard to focus on anything when biceps like his are right in your face. Worse when they're squeezed into such a tight shirt. He flicked his hair from his face and gave me the puppy-dog look with his coffee-colored eyes.
FOR A FULL LIST OF TALES FROM THE COFFIN BOOKS AVAILABLE AND FOR MORE DETAILS ON THE SERIES, HERE







Author readings from Tales from the Coffin
TO WIN A VAMPIRE EBOOK (WINNERS CHOICE FROM MY BACKLIST) JUST COMMENT YOUR THOUGHTS ABOUT THE EXCERPT AND FOLLOW THIS BLOG_ EASY!) I'LL ANNOUNCE THE WINNER ON THE 15TH AND 'gift' the prize via AMAZON KINDLE, B&N NOOK store, or ALL ROMANCE
NOTE: Must be a minimum of three entries before a winner can be drawn.
MORE UNDEAD DELIGHTS BY JOANNE KENRICK